Cocktail Competitions and Awards
Organic Spirit is very proud to be at the very forefront of innovation when it comes down to our cocktail design and we often compete in a variety of competitions. We create fantastic one off menus for many of our private parties, wedding receptions and catered events. Below you can see some of our triumphs and the cocktail recipes that we are are so proud of.
 Luxardo 2014 UK Champione
Pheonix From The Flames
35ml Cherry smoked grappa
25ml Sangue Morlacco
25ml Cherry puree
20ml Lemon juice
2.5ml Gomme
2.5ml Fire and Spice Luxardo Sambuca
Maraschino and rosemary dry ice "smoke"
Shake all ingredients and double strain into a martini glass, garnishe with cherry leaves, cherries and cherry wood ash. Finally pour maraschino infused with rosemary over dry ice to create the smoke.
2013 UK Finalist El Dorado Rum
Worth Its Weight In Gold
75ml Fresh pineapple juice
50ml El Dorado 12 yr old rum
12.5ml lime juice
Dash of saspirella bitters
All ingredients are added to a mixing glass and swizzled, then strained into an old fashioned glass. We add crushed ice then garnish with sugar cane stirrer that had been soaked ion the bitters and dipped in gold leaf.
Salted Caramel Old Fashioned
50ml El Dorado 15yr old rum
10ml caramel syrup
3 drops of dark chocolate bitters
A pinch of smoked vanilla sea salt
We stir all the ingredients in the tankards with miniature golden oars and finish by placing into a treasure chest filled with dry ice and pouring over sea water to create a sea mist.
Vestal Vodka UK First Place 2013
Wysiąść Mojej Ziemi or Get Off My Land
50ml Vestal Podlasie
12.5ml Dill syrup
10ml Lemon juice
Spritz of absinthe
Garnished with cornichons and fresh dill
This competition was all about telling the story of field to glass reflecting the traditional Polish vodka production.  The cocktail is shaken, double strained into a coupe glass and finished with the absinthe spritz.
Jameson's World Final First Place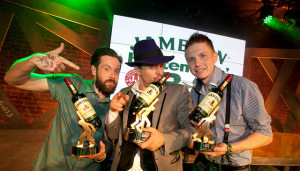 24 Carrot Gold
50 ml Carrot juice
5 Drops ginger bitters
5 ml Caramel syrup
Garnished with purple carrot ribbons dipped in gold leaf
Served with a straight shot of Jameson's Gold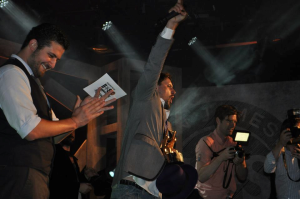 Our greatest result to date! After winning the London heats we represented the UK and took on 36 countries in the world final in Dublin 2013 with this little number and with a unanimous result took the top spot to achieve the title Mix Master 2013. Not only a great result for Organic Spirit but it was also the first time the UK had won.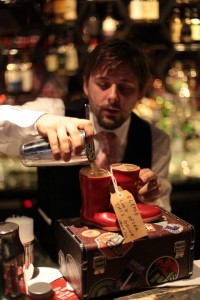 Putting Pen To Shaker 2013 UK Final First Place
Does a Bear Drink Rum In Deepest Peru?
50 ml Buttered sour dough toast infused Virgin Gorda rum
2 Bar spoons of Ish lime gin infused marmalade
Dash AKA vodka based bitters with vanilla and chamomile 
Shaken and garnished with mini marmalade sandwiches and served in a wellington boot.
Chartreuse 2014 UK Speed Blindfolded First Place and UK Mixology Finalist
Lost Love Found
50 ml Green Chartreuse
12.5 ml Lemon Sherbet
50 ml Soda water
Dash of lavender bitters
Stirred and garnished with fresh thyme and lemon peel
The second part of this competition was a round in which competitors were asked to make, shake and garnish a Last Word cocktail blind folded as fast as possible. David (the force is strong in this one) Hamilton Boyd managed this insane task at break neck speed taking the top prize at 21.65 seconds. He says that he's not 100% sure he could do it much faster without the blind fold…